Operation HALO's
​Steps to a Successful Adoption
---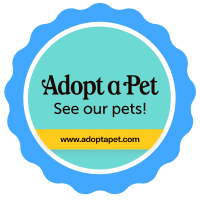 ---
Helping Animals Live Optimally
We are committed to a best practices animal rescue.

In 2011 The Animal Shelter Veterinarian Association published a thorough

Guideline for Standard of Care in Animal Shelters

to assist Animal Rescue Missions to be able to formulate a successful program to provide optimum care to the homeless that are awaiting a forever home.
Operation HALO's Mascot - Harlow (aka HALO) Service Animal of a Nature's Way Sanctuary Member, and an Operation HALO Caretaker and Foster Parent.
Bill of Rights for Adopters

You have the right to adopt an excellent match.​.
You have the right to be educated in order to become a conscientious pet owner.
You have the right to be treated with respect, courtesy, and professionalism.
You have the right to inquire and receive as much prior behavioral and medical history on the dog that is currently available.
You have the right to be informed of the dog's actual age, and if the age is not known, to receive an educated guess from a shelter professional.
You have the right to be informed of the dogs actual breed or breed mix, and if not known, to receive the best guess from a shelter professional.
You have the right to expect the shelter to stand behind its dogs/puppies, and accept them back AT ANY TIME, for ANY REASON, should the need ever arise in the dog's lifetime.
Highly Skilled & Certified Pet Care Professionals
Operation HALO intends to offer exceptional love, care, provisions, and a chance for a better life for each individual Rescue Animal taken into our program.

Operation HALO is operated by Members of

Nature's Way Sanctuary

. Our Caretakers & Volunteers live Nationwide. A Foster Parent of the animal you are interested in adopting will be glad to commune with you to assess your needs & work to see if the connection is a mutual match for the highest good of all involved.

We provide love offerings to the Caretakers and Volunteers of Operation HALO as an

energy exchange

as they strive to meet the optimum standards we require for the care of our Rescue Animals.

Caretakers, Volunteers, and Foster Parents are all Screened, Educated in Animal Care, and Certified through

Operation HALO's resources for Educational Programs as to ensure the best level of care is provided for each homeless animal and each new Adopter. As t

o ensure that we fulfill our

Membership Commitment

at Nature's Way Sanctuary

we are Committed to

animal and each new Adopter, for community & support for Life

.

Adopters will receive an Adoption Certificate for their Commitment to their Companion.
​
​How this Animal Rescue Mission began?
Nature's Way Sanctuary
is a church, and
is Operation HALO's parent organization.
We are
dedicated to honoring each Member's Personal Sacred Spirituality & Gentle Walk in this Life.
We Commune from all backgrounds under our common ground of our
Commitments
& life dedication.
We respect all life. We strive to do good in this life.
​We have a commited to
Honor & Serve our Creator by offering our Time, Thoughts, Actions, and Life.
An effective way for us to do this became an Animal Rescue Mission.
This Mission is for all Animals, humans included...
Each Caretaker, Volunteer, and Foster Parent are Educated & Certified in Animal Rescue through Operation HALO Education & Certification process, and are faithful
Members of Nature's Way Sanctuary
.
We commit to caring for unwanted or homeless animals that are in need of rescue, shelter, care, and a loving home.

Our Animal Rescue Mission shall hereby be known as...
Operation HALO
an integrated auxiliary of Nature's Way Sanctuary

​and
Our Mission is to
Help Animals Live Optimally
---
---
---